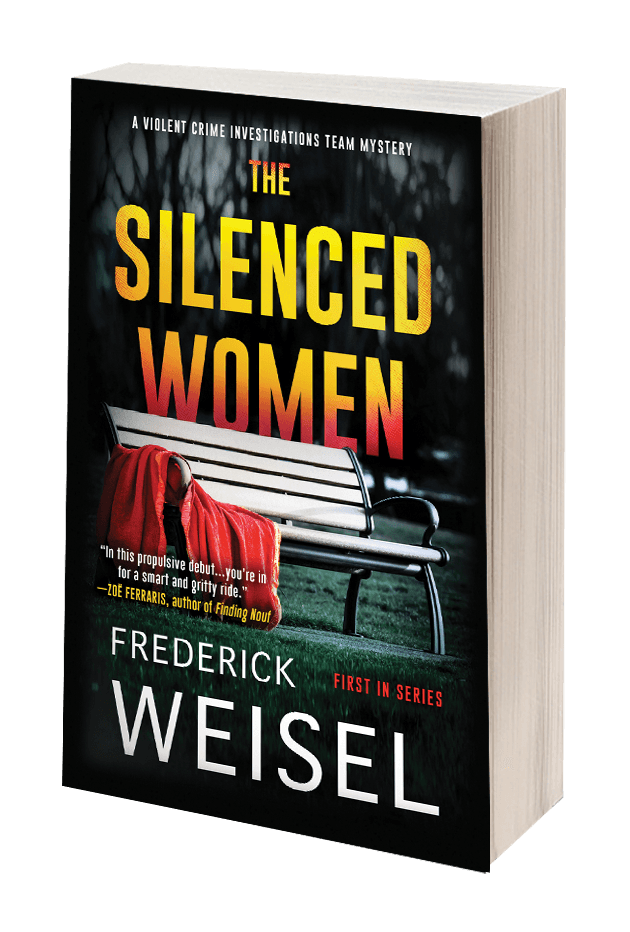 ON SALE NOW
The Silenced Women: A Violent Crime Investigations Team Mystery
"The two earlier homicide victims took with them to the next world not only every trace of their killer but also Mahler's belief that any killer could be found. Facts, he discovered, were useless without faith in them, and he'd lost his, as another man might lose faith in his religion or his god."
In a Northern California city, the body of a young woman is discovered wrapped in a red blanket on a park bench. The scene thrusts Lieutenant Eddie Mahler back to two unsolved homicides at the same location years before. Believing this latest killing could quickly lead to another, as it did in the past, Mahler and his Violent Crime Investigations (VCI) detectives rush to track down the killer.
This time, though, Mahler is suffering a migraine and is so haunted by his earlier failures that he's secretly lost faith in the techniques of solving crimes and imagines himself in conversation with a victim. If he's to succeed, he must rely on the newest member of his VCI team, Eden Somers, a young, academically trained officer with a gift for analyzing evidence and a dark past of her own.
At the heart of the investigations are the victims, the silenced women. The latest of these, the woman on the bench, is Elise Durand, a talented artist with bipolar disorder. To find her killer, the detectives start with nothing more than a line of a Keats poem written on the victim's leg. But as the team digs deeper into the new homicide and the cold cases, they're plunged into a troubling story that will confront them with their own demons and make them targets of the killers.
The Silenced Women is a debut novel by a new mystery writer, as well as the first in a series on the VCI team.
Praise & Reviews
"Frederick Weisel . . . delivers a satisfying procedural that touches all the bases: good writing, a compelling mystery, and equally compelling characters squaring off against worthy adversaries."
—Mystery Scene Magazine
"This start of a cinematic new series is an intense police procedural. Readers will be immersed in the investigation by a talented team, while also privy to the actions of a brilliant killer."
—"Debut of the Month" Starred Review in the Library Journal
"An excellent procedural series debut with complex characters who carry the story."
—Kirkus Reviews
"In this very promising start to Weisel's Santa Rosa Violent Crimes Investigations unit series, . . . Weisel delivers sensitive and well-developed portrayals of the beleaguered detectives, without skimping on the action. Readers will be reminded of P. D. James' Adam Dalgliesh when Mahler describes the art of interrogation as being "like a gentle hand at the suspect's back," or when he reflects on the irony of homicide investigations, which often victimize already violated human beings."
—Booklist
"The discovery of a young woman's body in a public park in Santa Rosa, Calif., drives Weisel's strong debut and series launch . . . . Bolstered by careful attention to detail and authentically drawn characters, this finely paced story builds to a satisfying finale. Police procedural fans will look forward to more."
—Publishers Weekly
"The debut of a promising new series, The Silenced Women is a timely and compelling police procedural."
—Jeff Abbott, New York Times bestselling author of Never Ask Me
"In this propulsive debut, Weisel writes evocatively about a detective in crisis, a complex crime, and a city pushed to the edge by a killer's grip. With The Silenced Women, you're in for a smart and gritty ride."
—Zoë Ferraris, Author of Finding Nouf
"Weisel's debut thriller is a crackling how-to-catch-'em, stacking equally intelligent and tenacious adversaries on both sides of the law, then setting them loose on each other."
—Joseph Schneider, author of the critically acclaimed LAPD Detective Tully Jarsdel mysteries