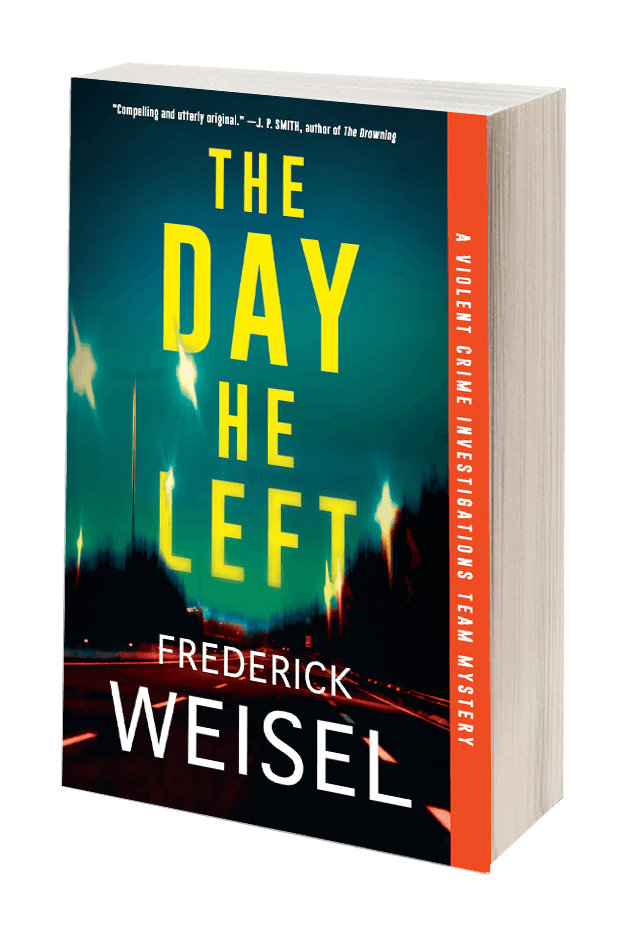 ON SALE NOW
"Mahler followed Eden into the hallway toward the interview room. At the doorway, he hesitated. He was pretty sure what was coming. Missing persons were loser cases—lonely, dead-end assignments that officers dodged, where you searched for what you didn't want to find."
In this second book in the VCI series, Eddie Mahler and his team of homicide detectives investigate the case of a schoolteacher who leaves for work one morning and never arrives. As they probe into the circumstances of the teacher's disappearance, the detectives uncover disturbing facts about the man's relationships with students as well as secrets hidden by his wife, son, and daughter.
In parallel with the missing person case, Steve Frames helps the Narcotics Investigation Team interrupt a shipment of heroin and methamphetamines—an effort that has a surprising intersection with the schoolteacher's disappearance.
Meanwhile Eden Somers is thrust back into the FBI's hunt for the Highway 60 serial killer, which haunted her in The Silenced Women. While she resists involving herself in the evidence, she is compelled by the revelation that the prime suspect has her personal contact information.
The Day He Left is a fast-paced, immersive mystery that takes us more deeply into the lives of the VCI detectives.
Praise & Reviews
"[The] investigation is described in one of the novel's many luscious passages as looking for 'that place in the rear view mirror where the unravelling began.' . . . a tantalizing mystery . . . . a beguiling mix of literature and crime."
—Booklist
"[An] excellent sequel to 2021's The Silenced Women . . . Weisel does a terrific job blending police procedural with character study."
—Publishers Weekly starred review
"An excellent police procedural raised to a higher level by the in-depth look at the lives of the people who work the crimes."
—Kirkus Reviews
"The Day He Left is never predictable, and the investigating team working this case are complex and top notch. This is one of the finer and more detailed police procedurals I have read in quite a while. The best way I can describe it is that it was like comparing a soft-soaped American Crime TV show to one that you can see on BBC, like say 'Line Of Duty,' which is just a step above. That's how I felt reading The Day He Left—it just goes there."
—Ray Palen, Book Reporter
"Weisel has penned an excellent police procedural, but it is also a character study. Each team member is a person with thoughts, feelings and flaws. These are not the typical hard-nosed skeptics depicted in a lot of crime novels. Eddie and the team know that those they deal with have varying motivations and experiences that influence actions and the information they provide."
—Patty Crane, Joplin Globe
"For those of us who read for character, this book is complex and well-done."
—Lesa's Book Critiques
"This is an interesting police procedural that will give fans of the genre a new team to get excited about. It is well-paced and an intriguing story."—Parkersburg News and Sentinel
"The word-for-word writing in the novel is flawless. The suspense is handled well. . . .  The characters are believable and interesting, and the main plot is compelling and moving."—Brian Greene, Criminal Element Magazine
"Compelling and utterly original, both as a procedural and a novel of human frailty, Frederick Weisel's The Day He Left begins as a missing-persons investigation that blossoms into a much larger story touching all of the players, detectives and survivors alike: a novel written with remarkable compassion and understanding."
—J.P. Smith, author of The Drowning
"An excellent police procedural . . . Weisel manages to make the minutiae of police work mesmerizing . . . Get in on the ground floor with this series. You won't be sorry."—Dana Stabenow, author of the award-winning, best-selling Kate Shugak series
"Frederick Weisel expertly weaves together an intriguing cast of characters in The Day He Left, pulling us along for the ride at breakneck speed. Atmospheric, peppered with humor, laced with suspense, this story kept me on my toes until the very last page." 
—Gina LaManna, USA Today bestselling author